Deuces Wild Video Poker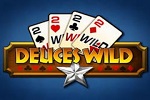 Deuces Wild is a popular online video poker game that employs a standard 52-card deck. Deuces which are the 2 cards, are a wild in this video poker game, and they can be used to produce a winning hand by substituting any other card from the deck. As a result, winning this game is significantly easier, although the pay table is a little tighter than other video poker variations.
Play Deuces Wild Poker
How To Play Deuces Wild Video Poker
Deuces Wild operates similarly to other video poker machines. There isn't much that changes apart from the rules. After that, the selection of coin sizes for dealing the cards stays the same. Here is a step-by-step guide on playing Deuces wild at top casinos.
1.      Select your coin size
The first step is to place the wager; choose the coin size and the number of coins to wager.
2.      Select the deal option
Click the Deal button to have the software give you an initial hand of cars.
3.      Hold or discard
After that, you must decide which cards you want to keep and which you want to discard. You may need to click a Hold button which is above each card. Or click on the cards you want to keep for your final hand. This will depend on the game developer as some games don't require this action.
4.      Press the Deal button one again
To get more cards into your hand, click the Deal button again. You can only discard and replace cards once per game. The cards dealt the second time are the ones that make up your final combination, and the round is ended.
5.      Collect your prize
The machine will give you a specified amount based on your hand strength if you make a winning rank.
Deuces Wild Hand Rankings
The fact that all four deuces in the deck behave as Wilds makes Deuces Wild appealing. As a result, they are the best cards available. In certain situations, the hand rankings alter slightly from ordinary poker. Three of a Kind is the lowest hand that qualifies for a payout; to obtain a payout, you must have a pair and a deuce or three cards of the same value. Natural Flush, the one without deuces, is the most valuable.
The best-paying hand in this video poker game is a Royal Flush without a Deuce, which comprises the same suit Ace, King, Queen, Jack, and 10.
Deuces Wild: This hand, which consists of four 2s, is the second highest paying.
Wild Royal Flush: This is a Royal Flush with two or more 2s.
A hand with five cards of the same value is known as a five of a kind (four cards plus one 2).
Five consecutive cards of the same suit make up a straight
Four of a Kind: Consists of four identical cards.
Full House: Three cards with similar values and two with distinct values make up a Full House.
Flush: A hand consisting of any five cards of the same suit, not necessarily in order.
Five consecutive cards from various suits make up a straight
Three-of-a-Kind: A hand consisting of three identical cards.
In Deuces Wild video poker, the hands Two Pair and a Pair do not pay.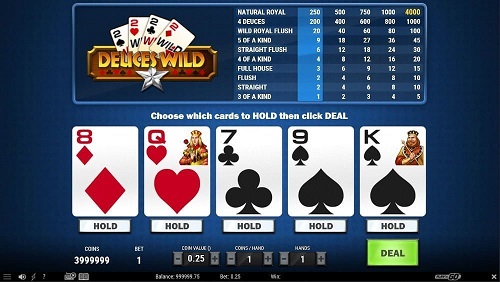 Deuces Wild Video Poker Pay Tables
Below is a pay table showing what you can make depending on your bet. This pay table is displayed on all deuce's wild games, so you don't have to worry about trying to remember all these details.
| Hand | 1 Coin | 2 Coins | 3 Coins | 4 Coins | 5 Coins |
| --- | --- | --- | --- | --- | --- |
| Three of a kind | 1 | 2 | 3 | 4 | 5 |
| Straight | 2 | 4 | 6 | 8 | 10 |
| 10F15lush | 2 | 4 | 6 | 8 | 10 |
| Full House | 3 | 6 | 9 | 12 | 15 |
| Four of a kind | 4 | 8 | 12 | 16 | 20 |
| Straight flush | 13 | 26 | 39 | 52 | 65 |
| Five of a kind | 16 | 32 | 48 | 64 | 80 |
| Deuces royal flush | 25 | 50 | 75 | 100 | 125 |
| Four deuces | 200 | 400 | 600 | 800 | 1,000 |
| Natural royal flush | 250 | 500 | 750 | 1,000 | 4,000 |
Deuces Wild Video Poker Strategy
Deuces Wild strategy decisions are influenced by the hand you're dealt and the number of deuces you have. The chart below will demonstrate the descending sequence of holding hands. If a hand isn't on the list, throw everything away and draw five cards.
Four Deuces
Hold all four Deuces to win the 1000-coin mini jackpot.
Three Deuces
Draw two cards while holding the three deuces. Only if you've been dealt a Royal Flush is there an exception. Hold all five and collect the 125 coins in such a case.
Deuces Two
Hold any four-of-a-kind, five-of-a-kind, straight flush, or royal flush. Keep the two deuces that you have and discard the other three cards if you don't have a good hand, unless you have:
A Royal Flush requires four cards.
A straight flush requires four cards.
One Deuce
The method becomes more complicated with one deuce and no deuces. There aren't many instances to remember with four, three, and two deuces, but it's critical to remember the decision hierarchy below. For a lone deuce hand, here are the hold strategies:
Four to a Royal Flush
Full House
Four to a Straight Flush
Any hand that isn't on this list is unplayable.
Draw four with the deuce held.
No Deuces
The most crucial thing to know while playing a no-deuces hand. You shouldn't even consider playing it like a Jacks or Better hand. If you don't have any deuces to work with, it's far better to draw a new hand. This way, you know that there are four deuces are remaining in the deck, then try to complete a low-paying hand with only one or two outs.
Free Deuces Wild Video Poker
You should play free games if you have never played deuces wild before or if you want to improve your approach. Most online casinos provide free deuces wild video poker games. You can use these games to practice your tactics or have fun. Regrettably, any profits generated by these games will not be paid out in real money. These games are also excellent for learning how different deuces wild games pay out.